Note: The following content is not original, it is provided by the developer, it is purely free to help, and does not endorse the product.
According to surveys, product managers who use mind maps are more likely to stand out in the workplace, with a success rate as high as 80%!
In this era of information explosion, how to efficiently organize, collate, mine and apply knowledge has become a challenge for every product manager.
Faced with this challenge, mind maps have become the secret weapon of high salaries for managers of large factories.
The TreeMind tree map is an accelerator in the mind map. It is equipped with an artificial intelligence model comparable to GPT. AI can generate a logical and hierarchical mind map with a single sentence, making the work of product managers easier.
XNUMX. Product Introduction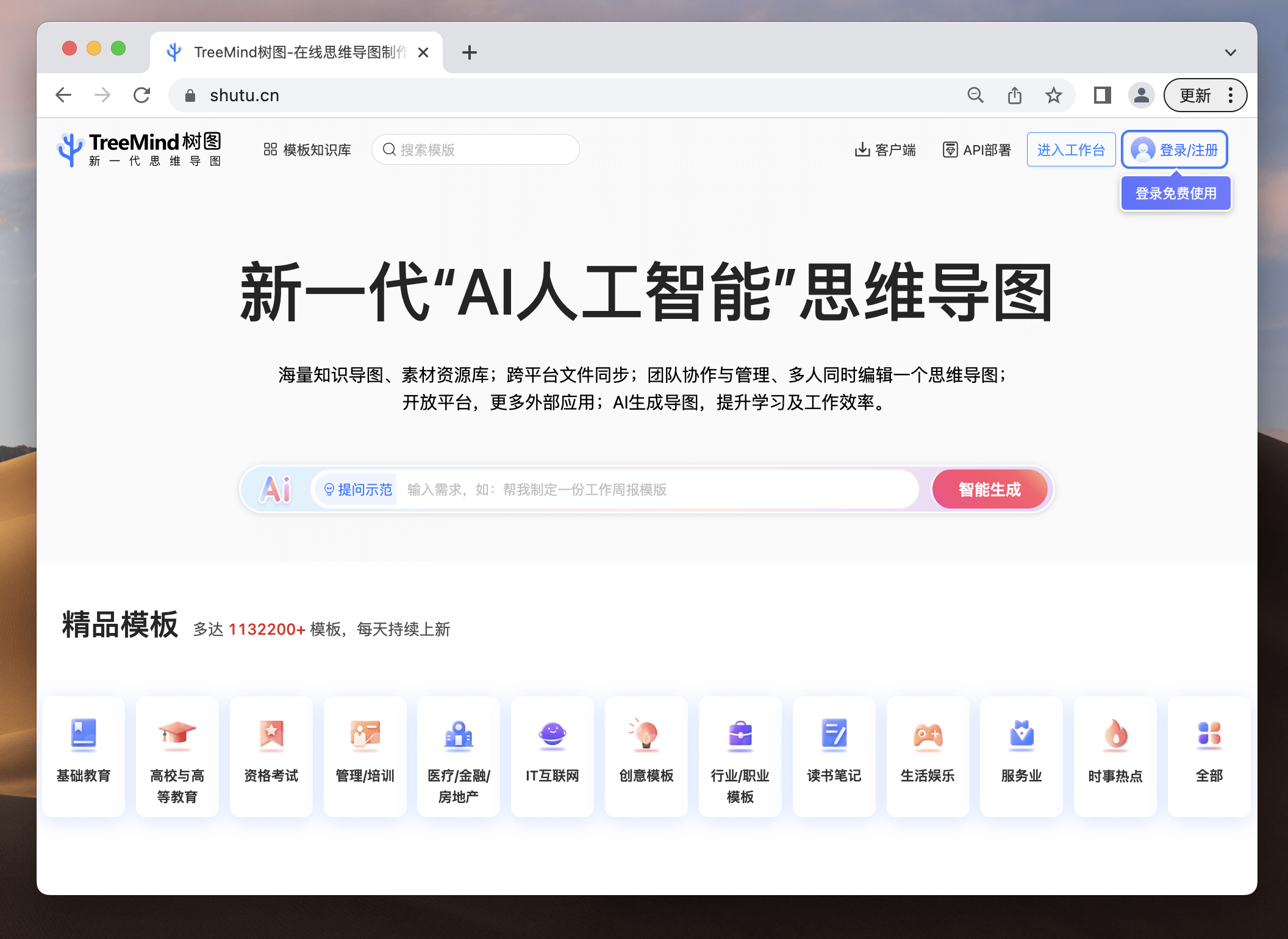 AsThe first batch of "AIGC+Mind Mapping" platforms, TreeMind tree diagramA detailed mind map can be generated in one sentence, opened a new era of AI-generated mind maps, which can quickly improve your learning and work efficiency.besidesMillions of Templates, to meet the needs of all walks of life and different segments, it is a real "encyclopedia" of mind mapping.
Click here to experience:https://shutu.cn/?from=cpjldrgznxxk
9. XNUMX core functions
AI word generates mind map
AI smart assistant asks questions at any time, maximizing productivity
Millions of templates Choose from 1,132,200 templates, new ones are added every day
Abundant material types Massive design resource library
Cross-platform file synchronization can be viewed anytime, anywhere
The team space supports multiple people to manage the team at the same time
Break away from the PPT and directly demonstrate in the tree diagram
Open platform to access more external applications
Split-screen mode to complete reading, writing and drawing on one screen
……
XNUMX. Features
1. AI generates a mind map in one sentence
Xiaobai who has never done a mind map does not know where to start?Don't panic!Put forward the demand, combined with the hottest ChatGPT at the moment, Treemap AI can directly help you generate a customized mind map with one click, and also supports random modification, and new users will get a 2000-word AI word count experience for registration!Free wool, don't you still grab it?
The AI ​​mind map intelligent library has complete and powerful functions. Whether you are reporting work or refining reading notes, even the most popular video script analysis, it can help you generate accurately, greatly improving your life and work efficiency!And the smart library will continue to be updated, so there will be no duplication or outdated content.The generated mind map is not limited to the addition and deletion of nodes, where it needs to be changed!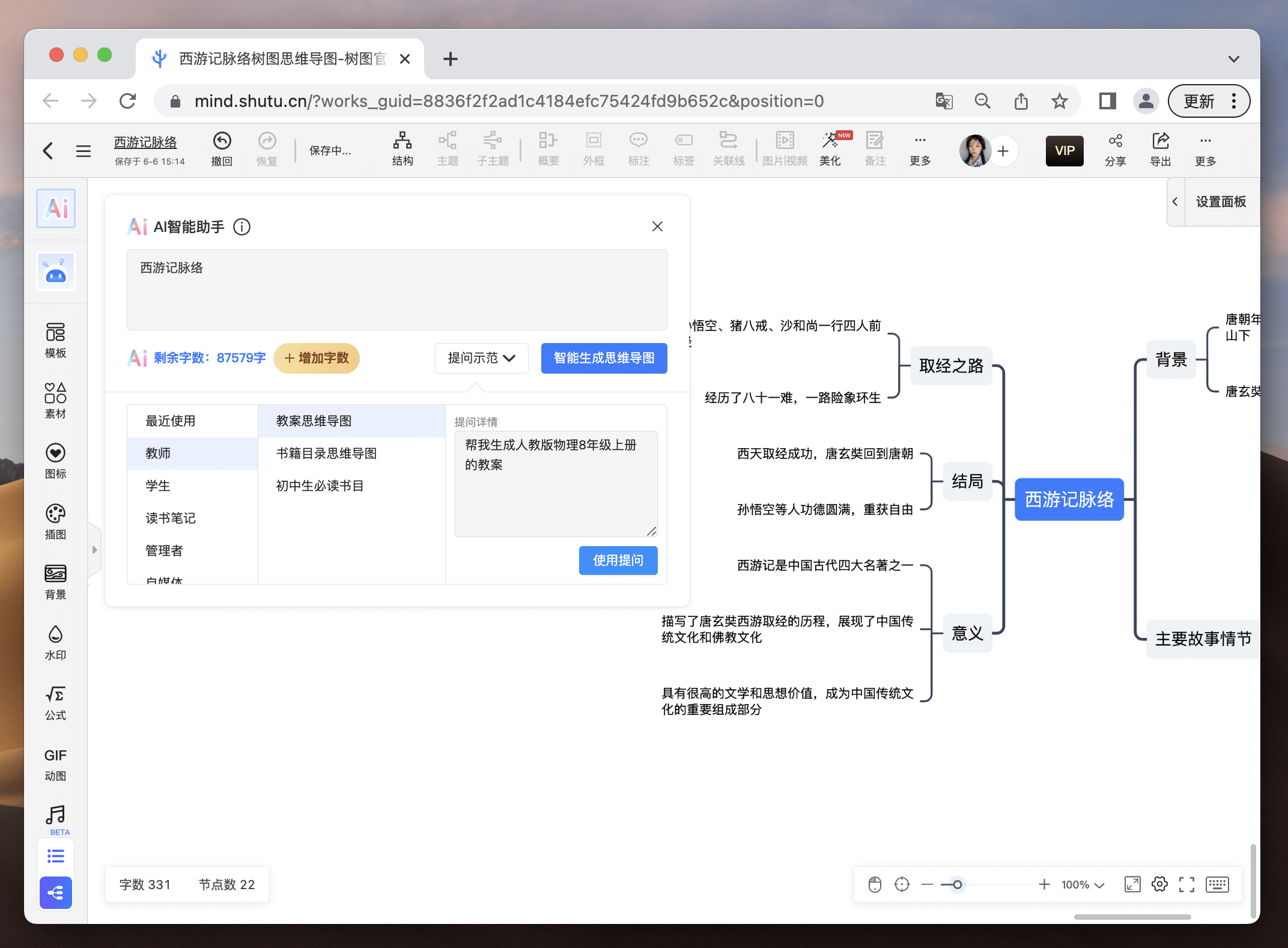 No inspiration for the mind map you made yourself?You can also let AI refer to your ideas to continue to expand, and refuse to run out of inspiration!Let you stand on the shoulders of giants to broaden your horizons, and let your thinking and inspiration emerge immediately.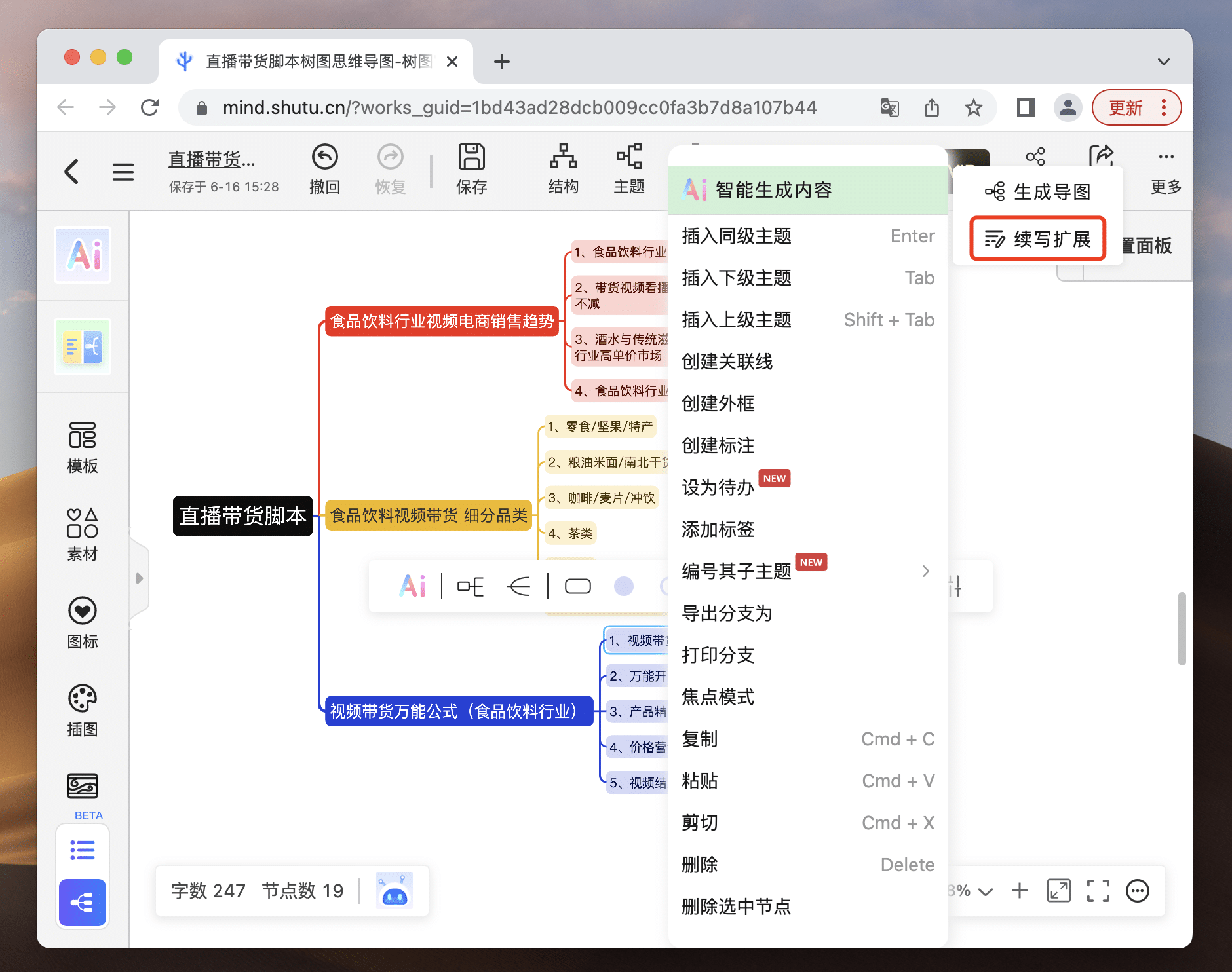 2. Wide range of application scenarios
Whether it is demand sorting, product planning, market analysis, or team communication, as long as it involves sorting and transmitting information, TreeMind tree diagram can provide you with great help.
need to organize: Visually display the relationship between various requirements through the map, helping the team to have a clearer understanding of the direction of the product.
product planning: The product life cycle, functional modules, user experience and other key points are displayed at a glance, which is convenient for the team to refer to and implement.
Market analysis: Combined with AI technology, it intelligently extracts key information from market data, generates an intuitive mind map, and helps product managers quickly grasp market trends.
team communication: In meetings or daily work, use the TreeMind tree diagram to record and organize key points in real time to ensure effective communication. TreeMind tree diagram can even allow you to break away from PPT and directly use mind map for presentation.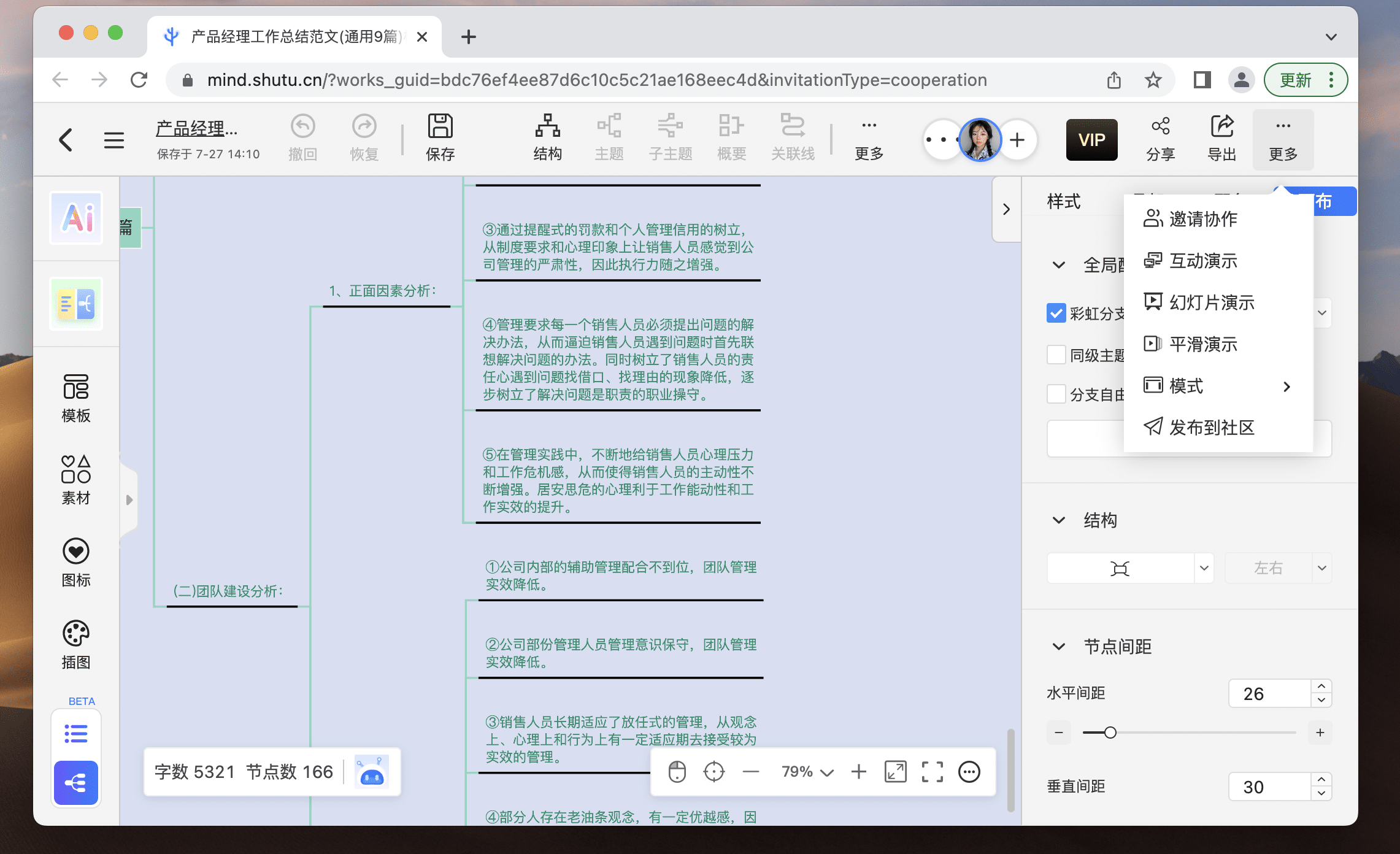 3. Millions of templates are free
Nearly 150 million + map templates, new ones are added every day!Contains as many as 829 featured albums, a total of 123 template categories, covering 12 industry types, helping you unleash the unlimited potential of creativity!No matter what type of mind map you want, you can find 99% of it in the TreeMind tree diagram template library!Modify directly on the master's mind map to help you broaden your thinking and become a mind map master.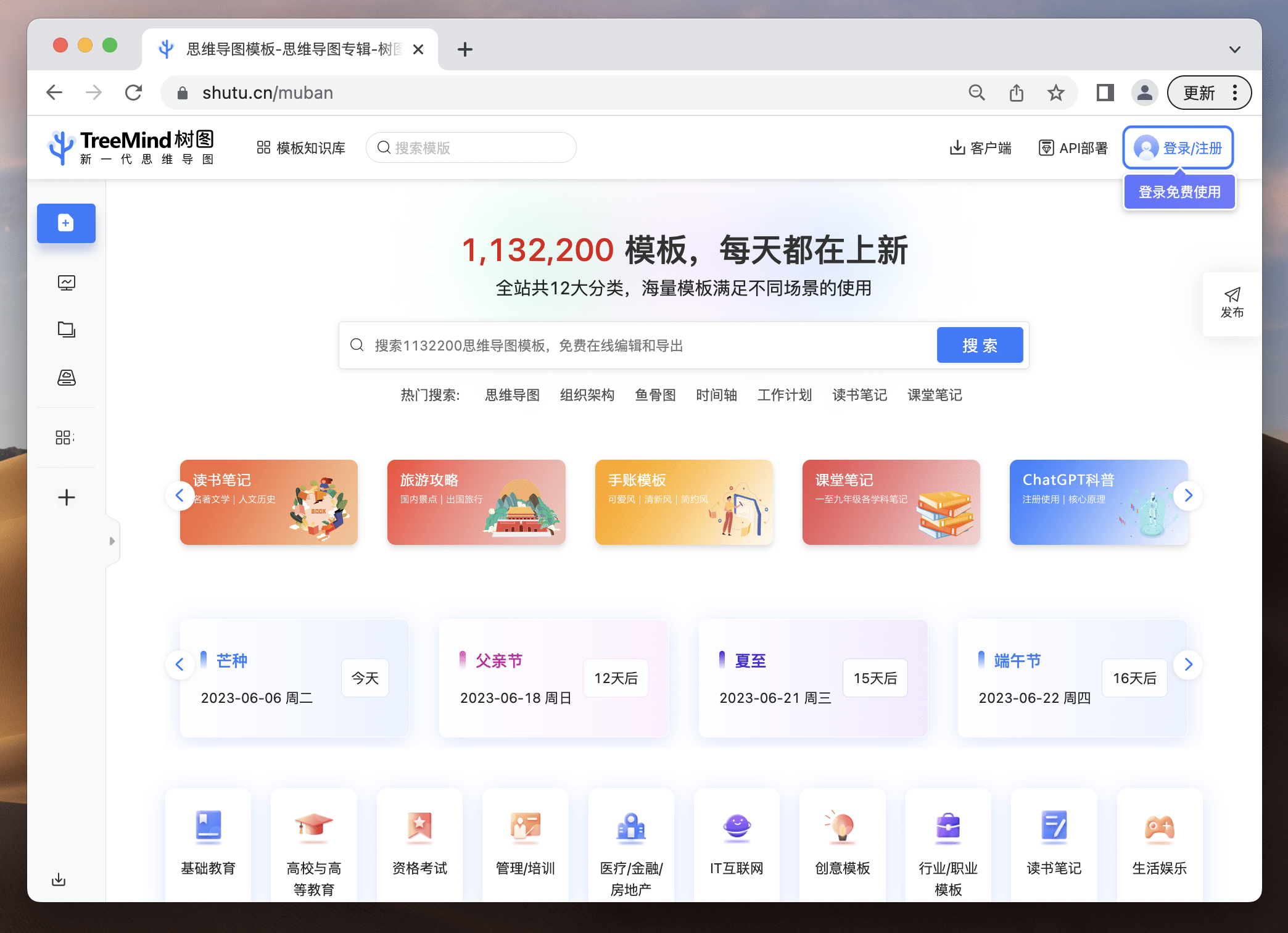 4. Split screen view, read and write on one screen
When drawing a complex mind map, it is common practice to refer to a large amount of information, but the traditional method of frequently jumping to the window to view information and edit the mind map is really inefficient.
One screen dual use makes your reading and writing mode so easy!While reading documents, while making mind maps, the learning effect is doubled!Data upload supports 3 import methods: file import, paste import, URL import, supports PDF, Word, Txt three file formats, no need to convert, direct reference!What's even better is that the historical database is automatically backed up, so you don't have to worry about file loss anymore!In addition, we have also added the window size adjustment function, adjust the interface as you like, and provide a more comfortable learning environment!The connection of the two makes your map drawing smoother!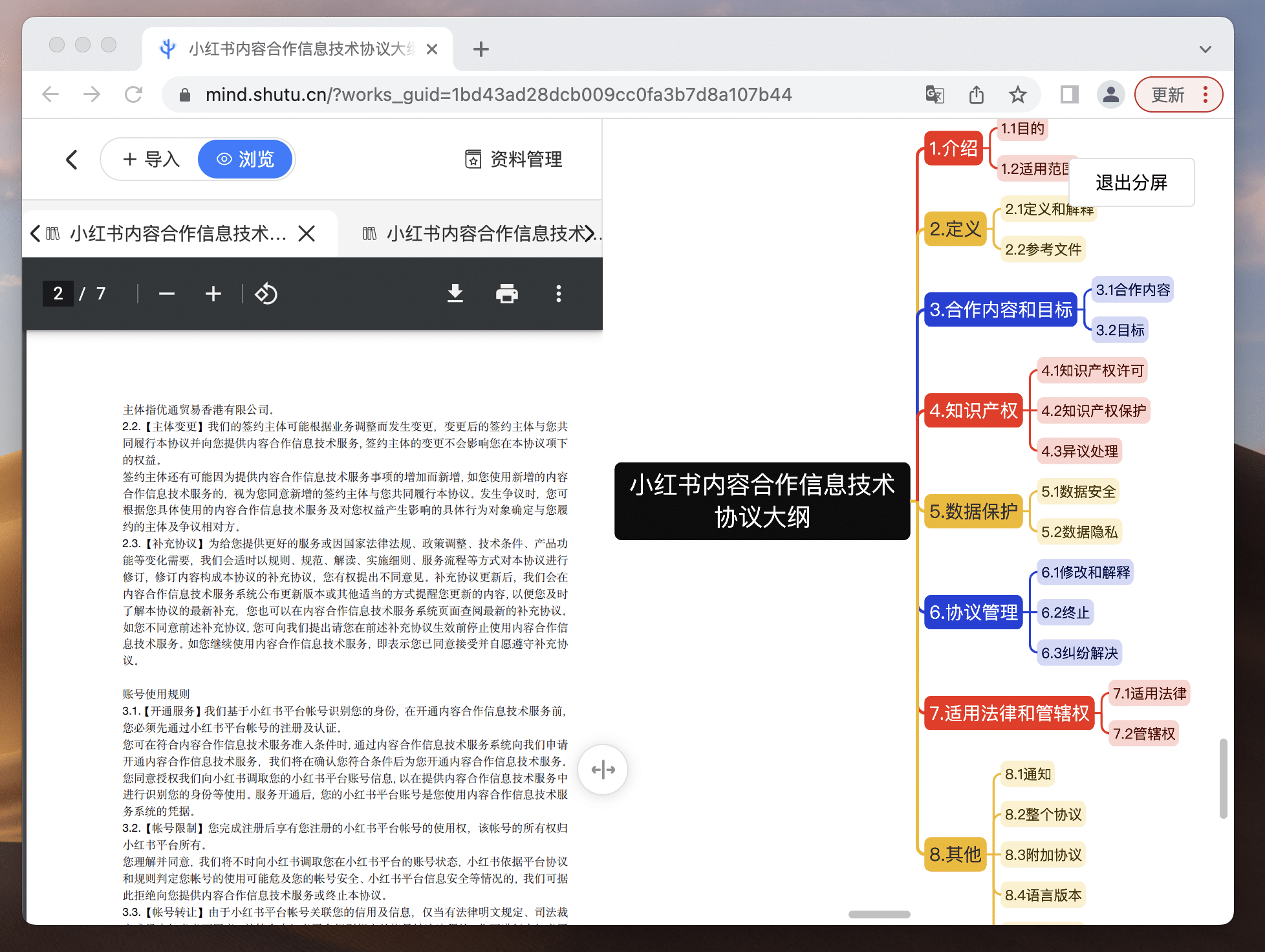 5. Team space, multi-person collaboration
Whether you are working from home during a special period, or you are collaborating with multiple people to complete a project/assignment, you need to easily share your creative content with your colleagues. From time to time, you also need to have a multi-person brainstorming session, where multiple people work together to complete a task online .Traditional software can only complete one file for each person, and finally merge the files of multiple people together, and then modify them uniformly.
Traditional mind map:Map files or pictures can only be shared through WeChat, DingTalk, email, etc., and need to be shared again after the content is updated; it is impossible to complete the production of a mind map with classmates, colleagues, or multiple people at the same time;
A new generation of mind map-TreeMind tree map:Many people can edit a mind map at the same time, and can brainstorm and sort out ideas in a mind map.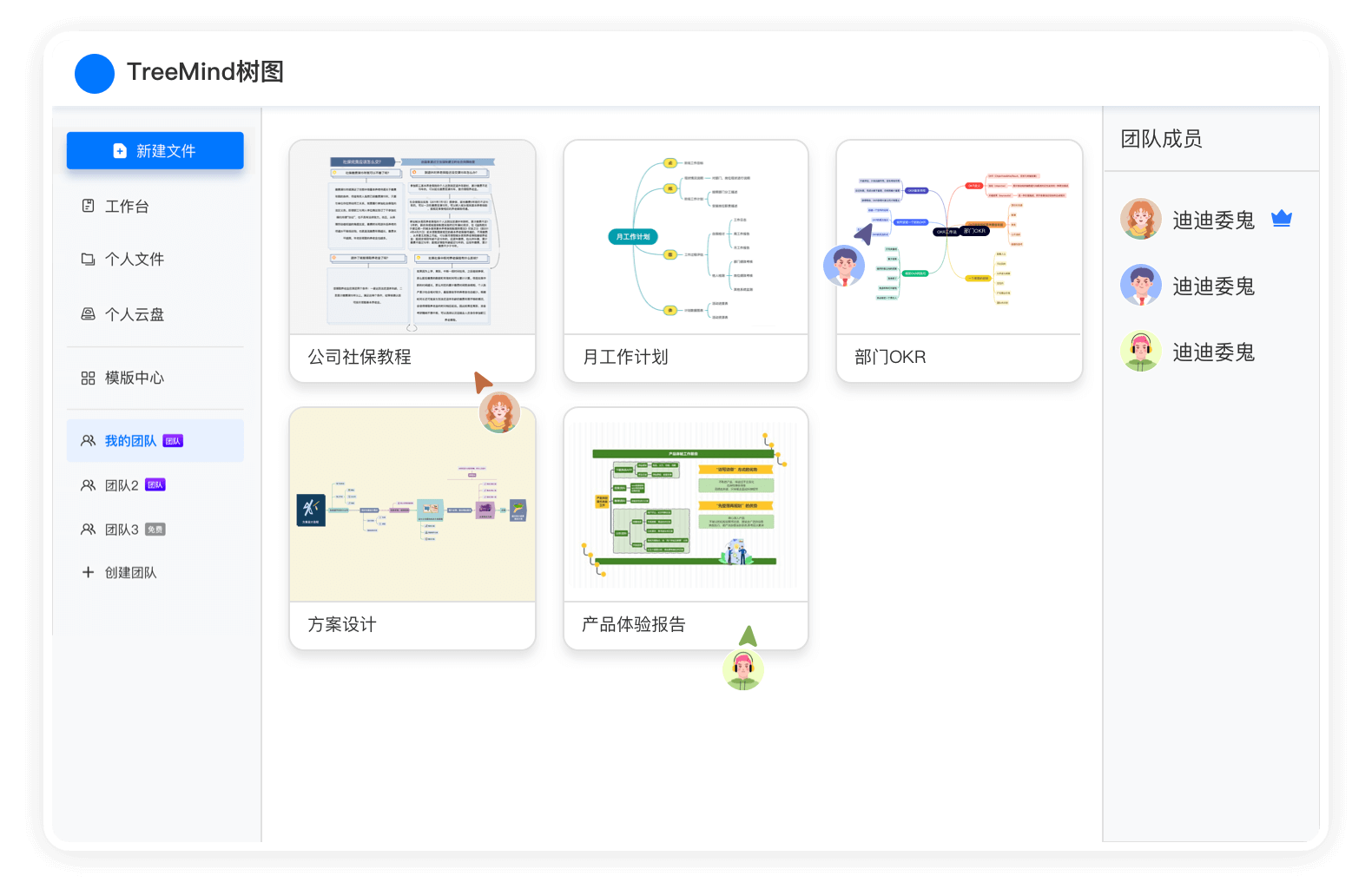 6. Cloud cross-platform
Most of the mind-mapping software currently on the market needs to be downloaded and installed as a client before they can be used. They either take up computer disk space or waste mobile phone memory, and the most important thing is that they occasionally encounter pirated software and rogue software. TreeMind is an online mind mapping tool. Open a browser and visit the website to quickly create a mind map, let your inspiration quickly shuttle through the nodes of the mind map, and maximize your learning and productivity.
At the same time, the TreeMind tree map realizes "real-time saving, and the content can be synchronized with multi-platform files". You no longer have to worry about forgetting to save, software crashes and causing content loss, allowing yourself to focus on content creation and inspiration explosion without other interference ~ In the browser, Both the client and the mobile phone can modify and browse files.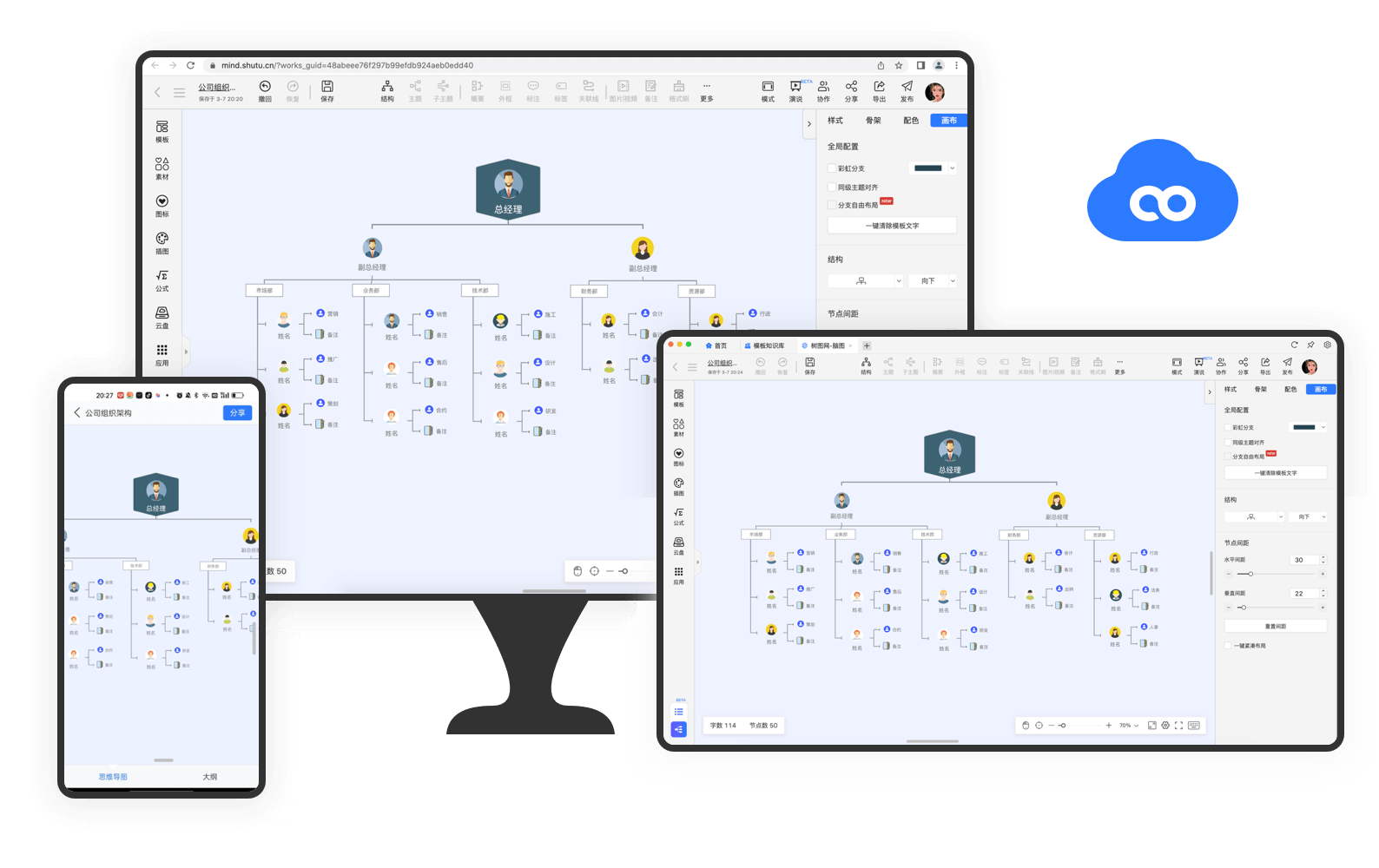 7. Free is enough, members are super valuable
Most of the rights and interests of TreeMind tree map can be used for free. For beginners who are new to mind mapping, TreeMind tree map also provides the supreme experience of exporting once a day for free ➕ AI words of 1 words; Unlock more rights and interests and become the master of mind mapping!Colleagues buy together in a group and enjoy group discounts.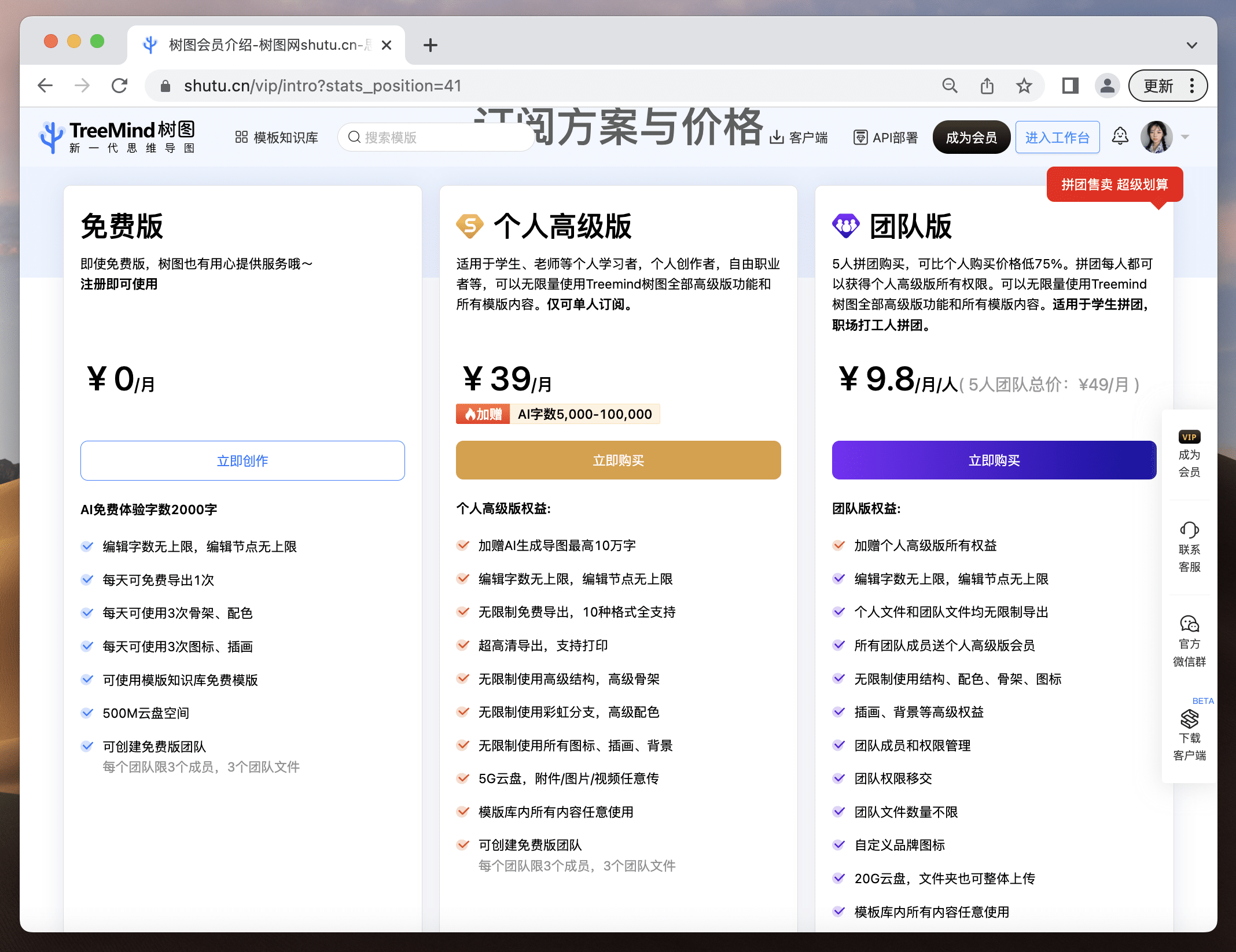 XNUMX. How to use TreeMind tree diagram?
1. Want AI one-click generation:
Open the website and enter your needs in the text box, and AI will automatically generate a relevant customized mind map.
For example, I enter here:

Let it help me generate a weekly work report!Just enter a subject and click Smart Generate.The result is shown in the figure below: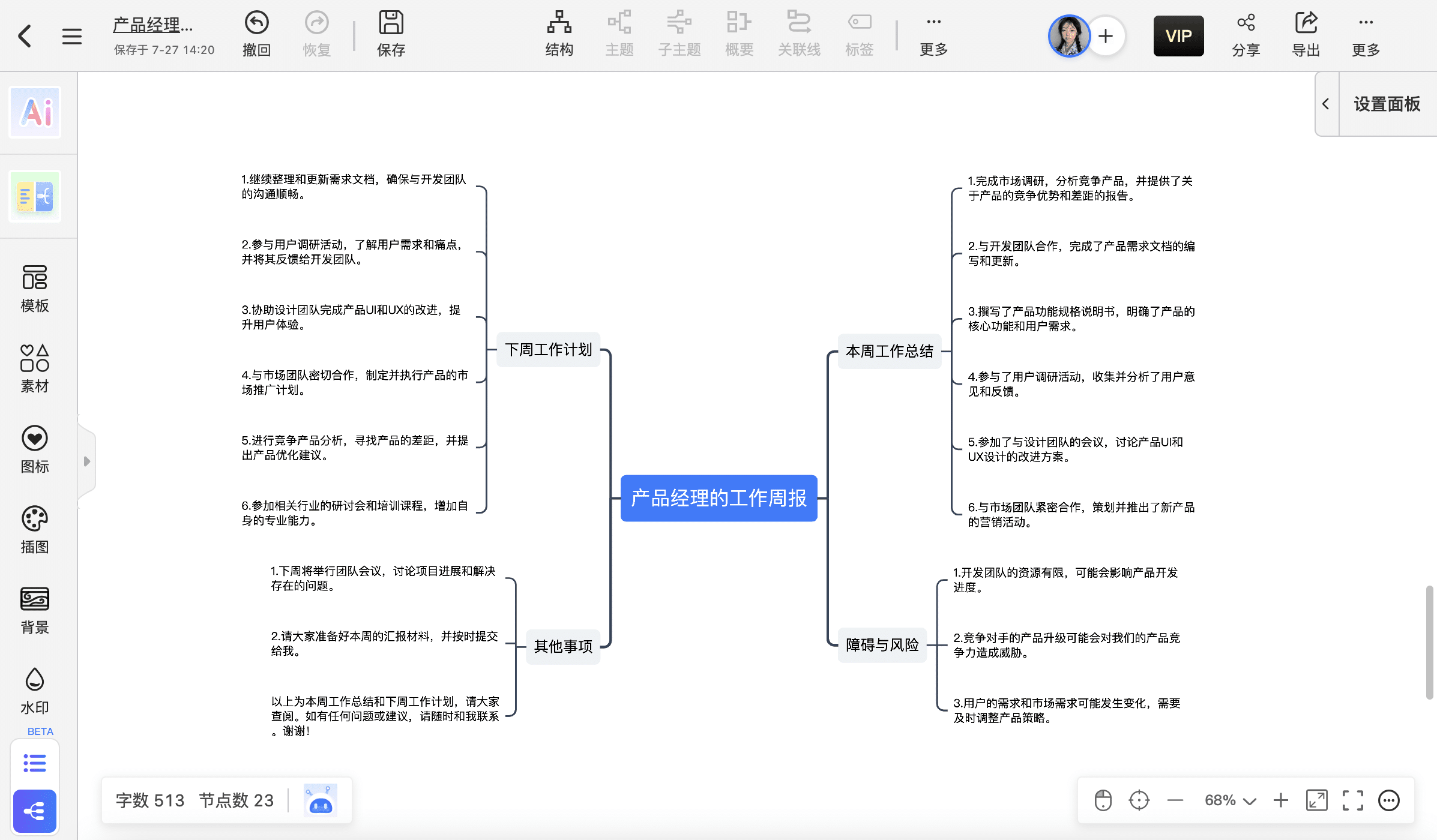 2. I am not satisfied with the AI ​​map and want to create it myself:
In the workbench, select the type of map you want to create, and you can create and draw your own map!
For example: if you want to customize your own weekly work report, you can freely draw on the nodes as long as you choose a suitable map frame, and you can also modify the existing templates in the template library for free.The result is shown in the figure below: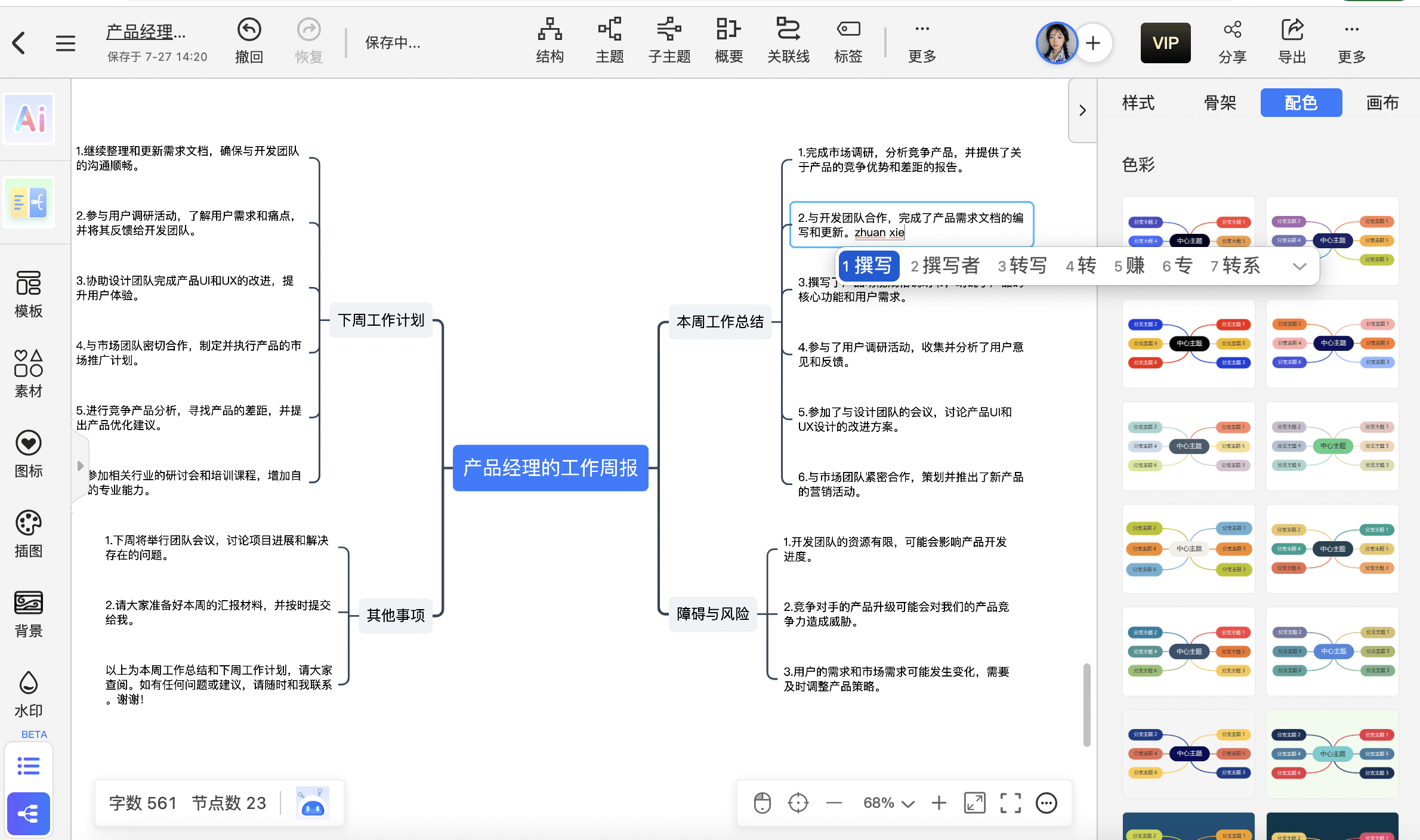 XNUMX. Limited Time Offer
Shocking good news! TreeMind tree diagram is also online for life members now,The top 20 fans who buy every day can enjoy an instant discount of 200 yuan, and the lifetime VIP only needs an early bird price of 399 yuan!Countdown to 5 days!Hurry up to buy!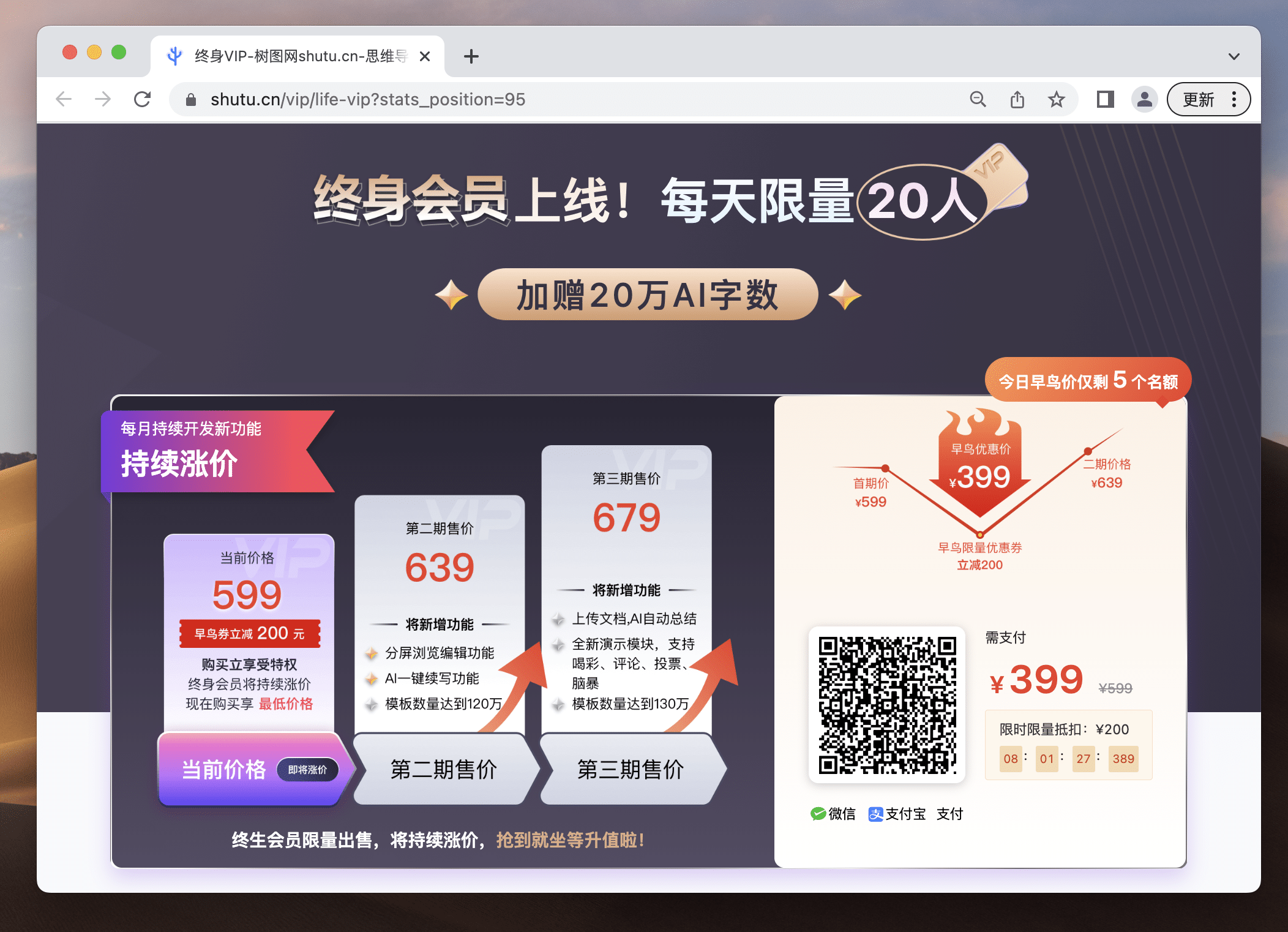 After reading it, are you surprised by the excellent functions and considerate service of TreeMind? Product managers who want to improve work efficiency can try it. Its membership price can be said to be the price of cabbage.One member can be used on multiple platforms, which is very cost-effective.Strong Amway everyone to start!
Click and play without download : https://shutu.cn/?from=cpjldrgznxxk