This article is transferred fromTop Data Science Platforms in 2021 Other than Kaggle"

The content is Google machine translation, which is relatively rough, but does not affect the overall understanding.
By 2021,NowData science hasdifferent.
In short, the competition is fiercer and requires different skills to stand out.In the past 5-10 years,Data scienceAttracting new immigrants from all over the world to engage in "the sexiest job of the 21st century".
I was recentlyAn article by KDNuggetsRead the following incredible statistics in ML, where ML researcher Mihail Eric analyzed the data fromY-CombinatorData roles employed by each company.
This is the point he found in two sentences.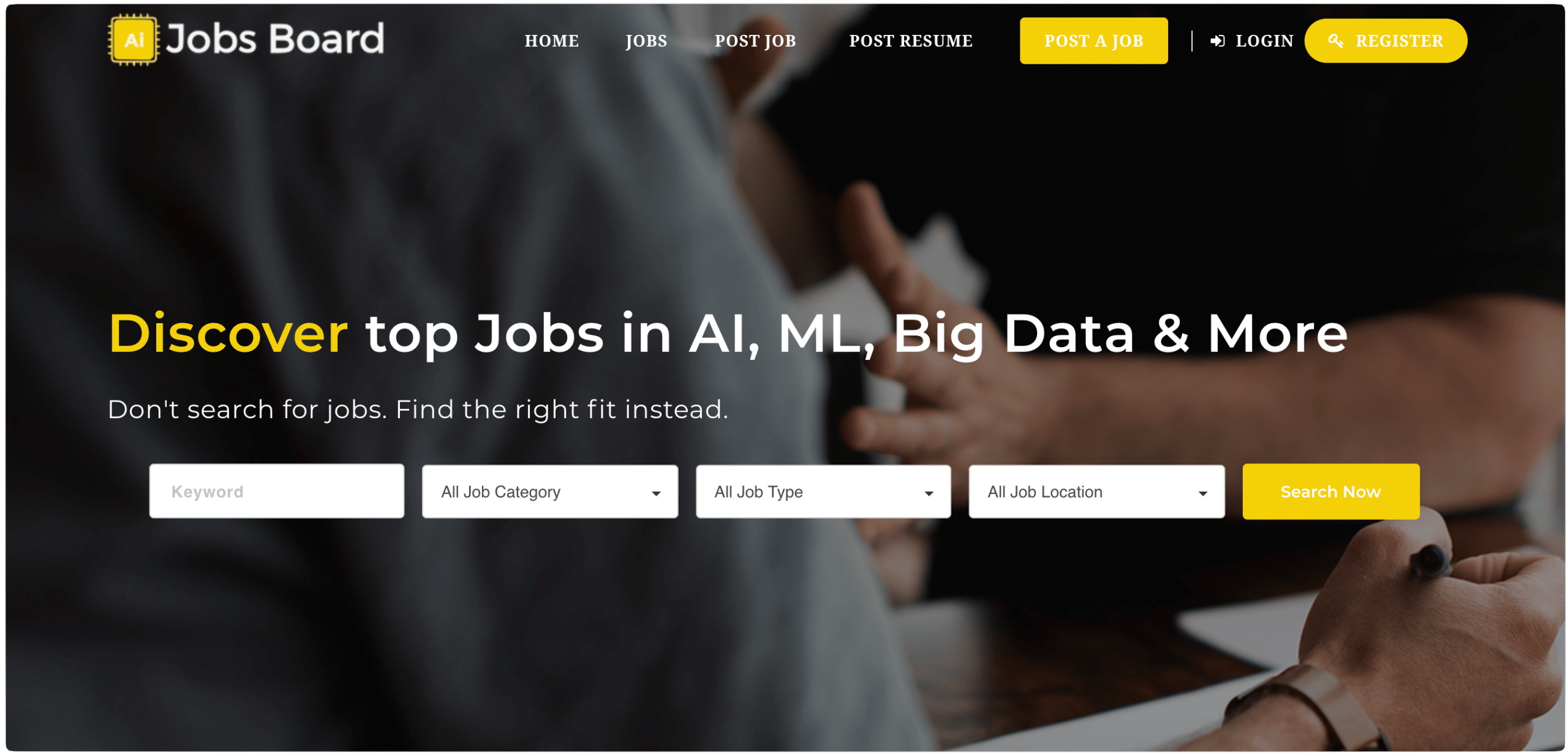 versusData sciencecompared to, The company isData EngineeringOpen roleneed more70%.When training the next generation of data and machine learning practitioners, let us put more emphasis on engineering skills.
"It may sound boring and not so sexy, but old-fashioned software engineering that is biased towards data may be what we really need now."
So does this mean you shouldn't study data science?No, this means that competition will be more intense.For newbies who are undergoing a well-trained data science market, there will be fewer and fewer positions available.
Popular AI articles:
To stand out, you need to get hands-on and build really important skills.This means not only technical skills, but also collaboration, leadership and problem-solving skills.
In order to get there, I want to share some platforms with you, which all emphasize different skills and knowledge to prepare you for the real world.
This article is divided into two parts:
Competitive and collaborative platforms to hone your skills
New resources to enhance specific skills
in spite ofKaggleBeData Science CompetitionWell-known platforms, but there are many platforms worth knowing and exploring. If you are interested in acquiring the skills you need at work, it's worth a try.
Driven Data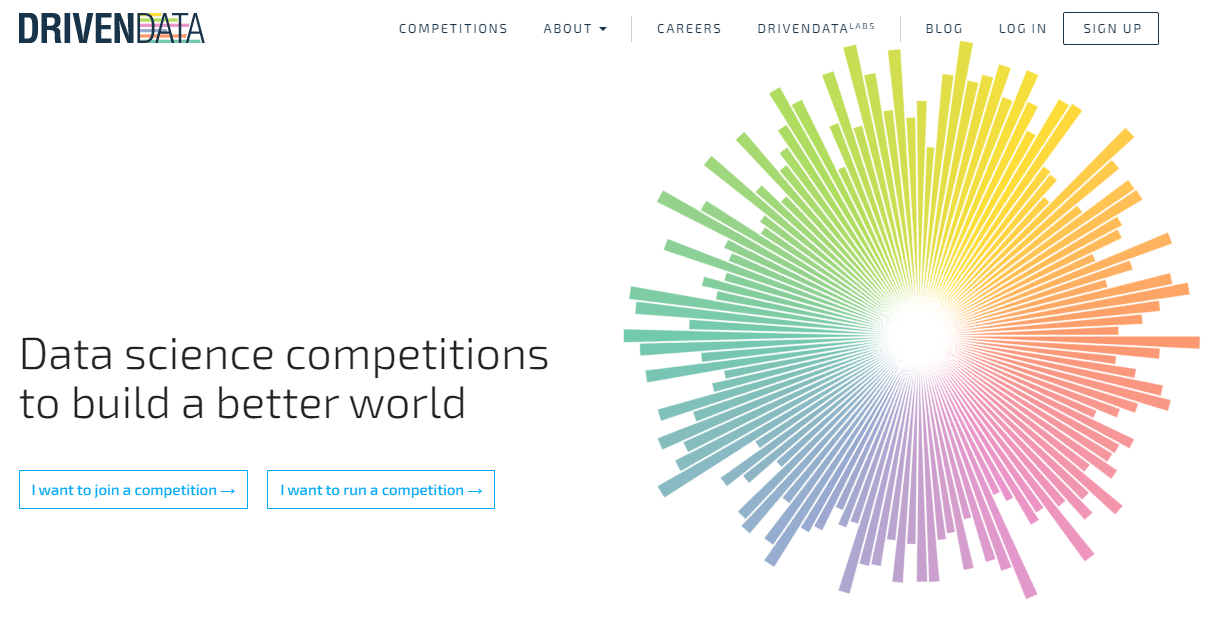 DrivenData works on projects where data science and social impact intersect in the fields of international development, health, education, research and protection, and public services.Their mission is to enable more organizations to use data science capabilities, and to enable more data scientists to face social challenges, and their skills may make a difference.
The site has a dedicated introduction比赛part.The data sets listed in the driving data are related to non-profits ranging from wildlife protection to public health.Therefore, if you want to use your skills to solve meaningful problems, driving data can become a place to get your hands dirty.
Omdena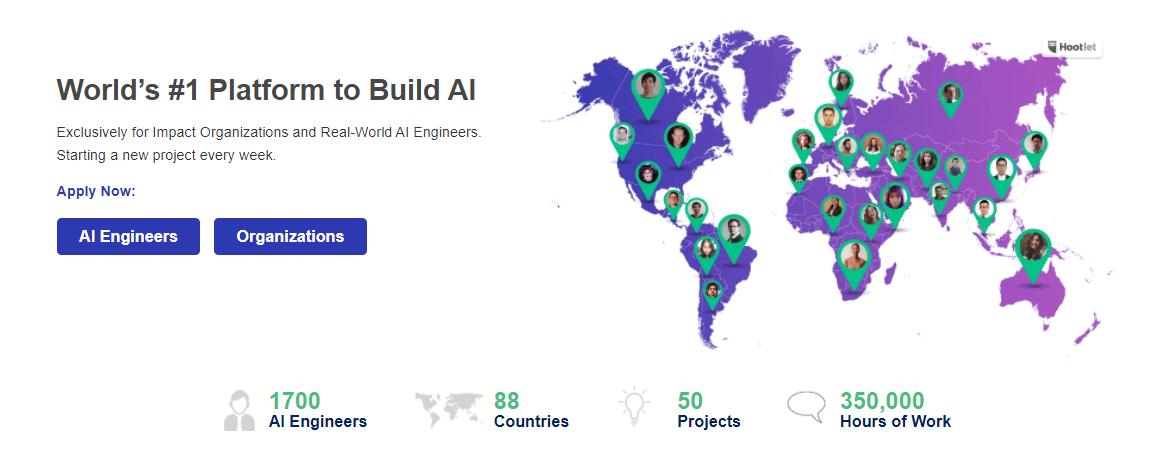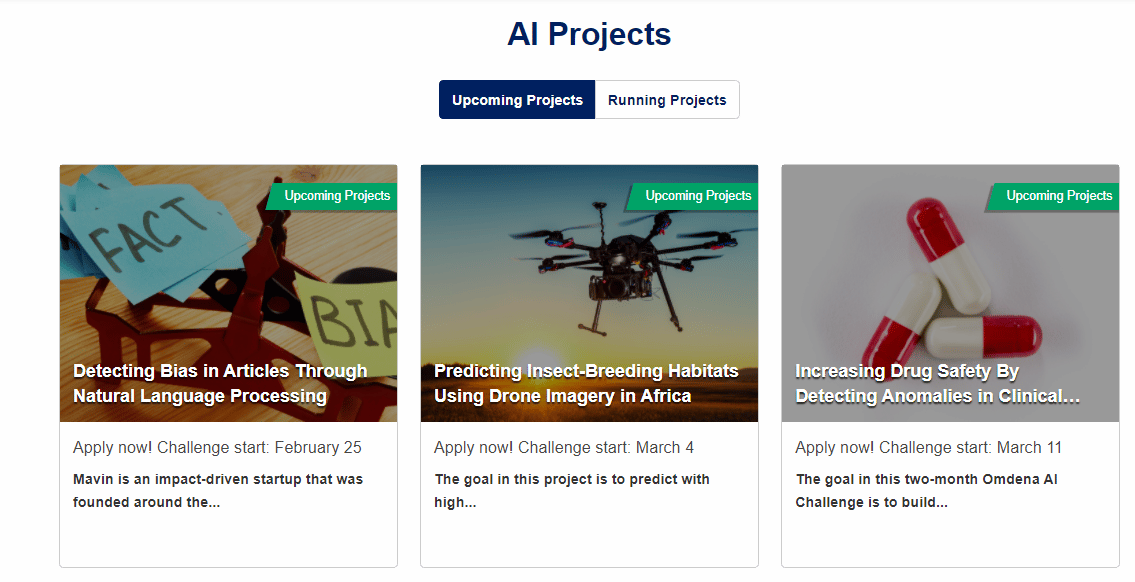 OmdenaIs a collaboration platform,Not a competitive platform, It hosts a two-month project, from problem scoping to data collection, preprocessing, and ML modeling and deployment.Our mission is to help organizations (start-ups, NGOs, social enterprises) build real-world solutions, while helping data scientists and engineers from all over the world have an impact, build 21st century skills and build networks in global communities.
In the Omdena project, you will join a collaborative team of up to 50 collaborators from different backgrounds.The scope of the project is fromSolar on the roofDetecting and detecting the deviation of items and preventing malaria infection have involved several commercial impact projects.If you want to get a comprehensive real experience,OmdenaMay be your ideal platform.
Crowd ANALYTIX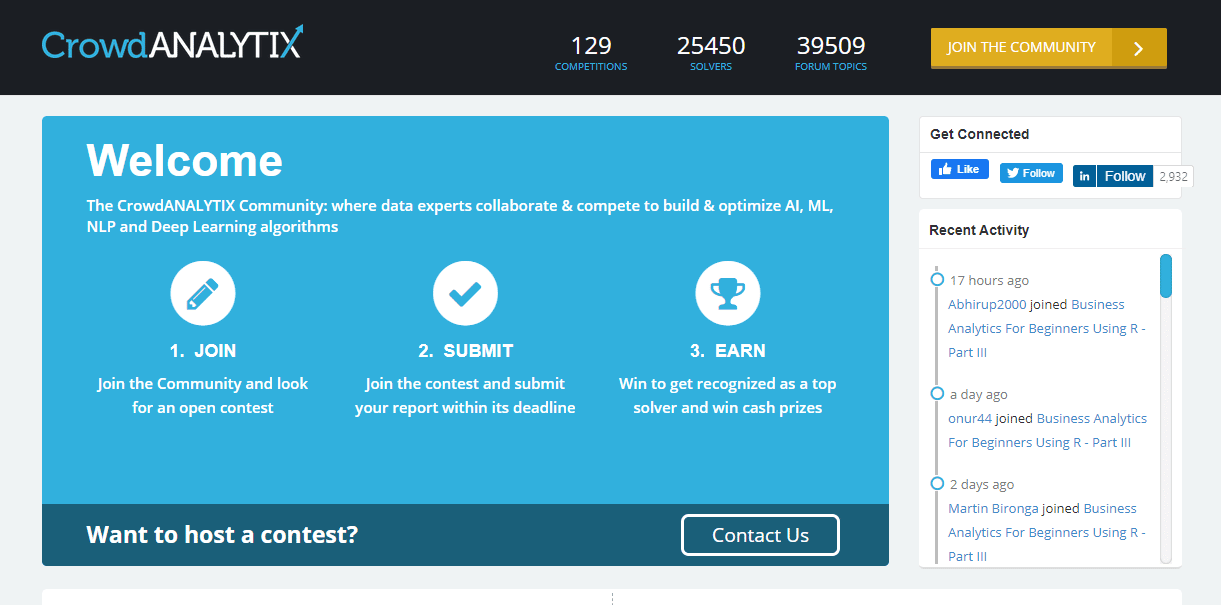 Crowd ANALYTIXTransform business challenges into analysis competitions; and solve the demand for analytical solutions that require predictive analysis, descriptive analysis, estimation, and business hypothesis verification.
The platform also hosts aCommunity blog, theBlogHas excellent resources, including interviews and reference materials.If you are looking for business-oriented projects, then this may be your platform.
datacamp

datacampProvides a beginner-friendly solution to practical problemsmethod.
Datacamp's method isBuild the confidence to write your own code.Through projects, you can use tools like Jupyter Notebook to apply skills and complete data analysis from start to finish-all in a risk-free environment.
You can use your coding skills to solve open-ended problems without performing step-by-step tasks.If you get stuck, please follow the live code and video to learn how our expert lecturers can find one of the many possible solutions.
InnoCentive

InnoCentiveIs a familyOpen innovation和CrowdsourcingThe company focuses on issues related to life sciences.
The crowd can be external (ie, their network of over 380,000 problem solvers) or internal (ie, employees, partners, or customers of the organization).For submissions that meet the requirements listed in the "challenge" description, rewards are usually awarded.The average reward for the challenge is $20,000, but some offer rewards in excess of $100,000.
As a solver, you can contribute to solving the world's most pressing problems.
Codalab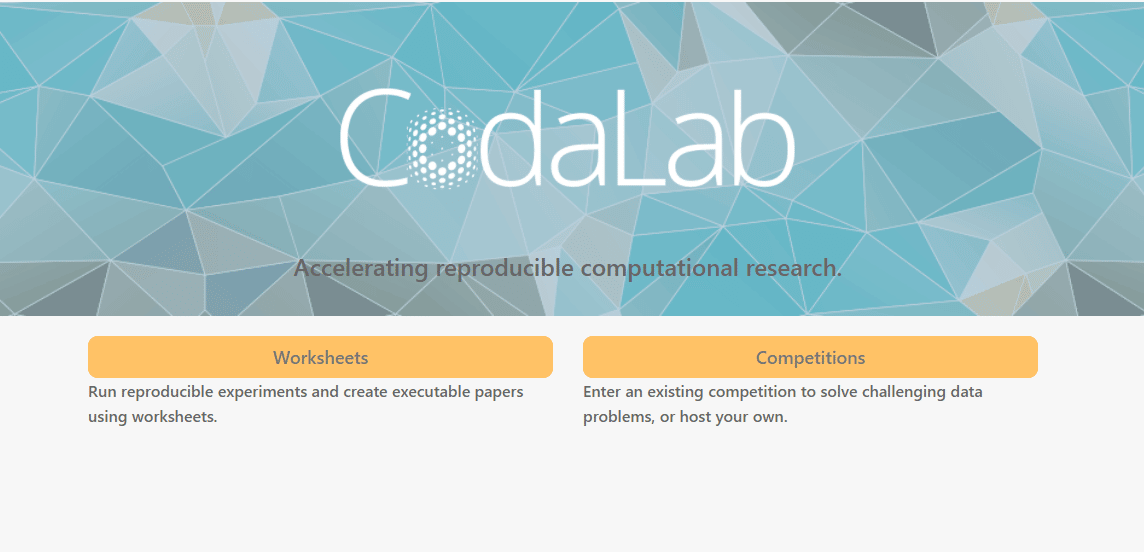 CodalabIs a web-based open source platform that enables researchers, developers, and data scientists to collaborate to advance the field of research using machine learning and advanced computing. CodaLab helps solve many common problems in data-oriented research through its online community, where people can shareWorksheetAnd participate in the competition.
Then, other collaborators can easily copy, modify, and edit experiments to advance the latest technologies in data-driven research and machine learning.
ZINDI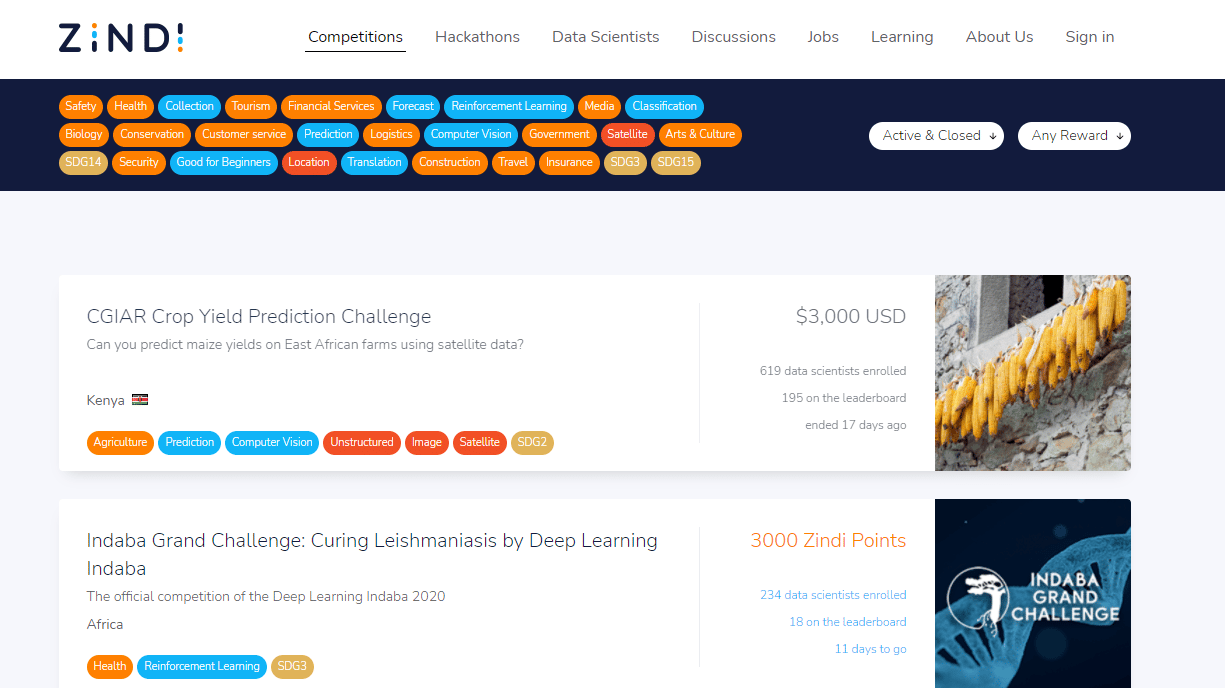 OthersIt is a data science competition platform whose mission is to build a data science ecosystem in Africa.They connect the organization with our thriving African data science community to use machine learning and AI to solve the world's most pressing challenges.
Analytics Vidhya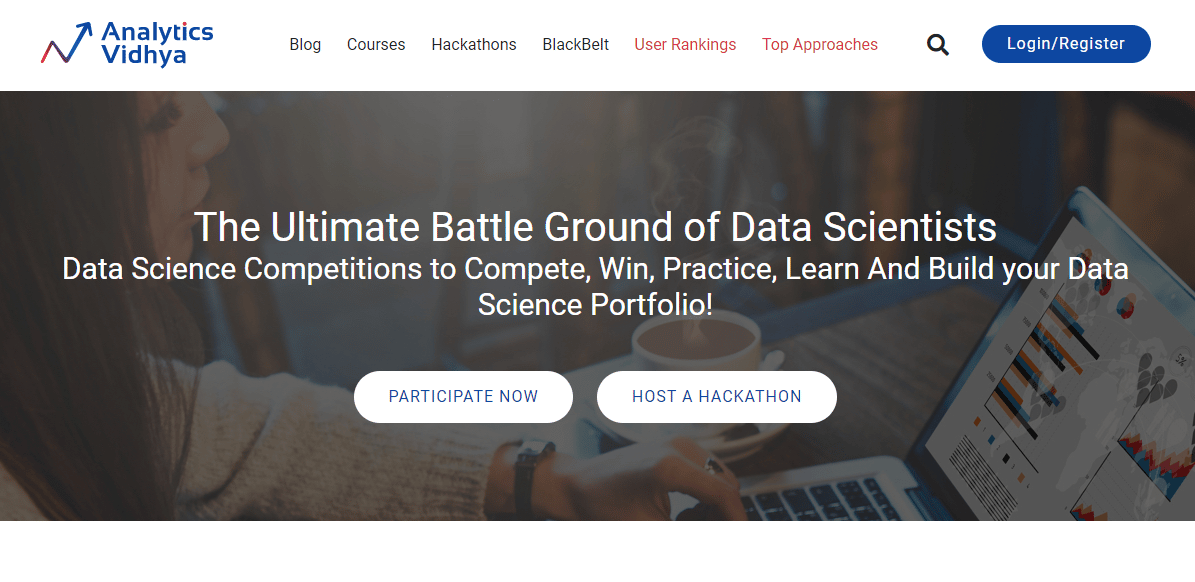 Compete, win, practice, learn and build your data science product portfolio in data science competitions!
Analytics Vidhya Provides a community-based knowledge portal for Analytics and Data Science professionals.In addition to providing a lot of resources for data science learning, it also hosts Hackathons, which are real-life industry issues published in the form of competitions.You can participate in a challenge or sponsor a hackathon.Most companies that organize Hackathons on Analytics Vidhya also provide jobs for the highest-scoring people.
A crowd

Data Science Challenge PlatformA crowdPer yearMetropolisHost multiple open data science challenges.Challenges include image classification problems, text recognition, reinforcement learning, counter attacks, image segmentation, resource allocation optimization, and many other areas across multiple domains.Because of their 2017"Learn to run"Challenge and received more than $100,000 in rewards from Amazon and Nvidia.
hackathons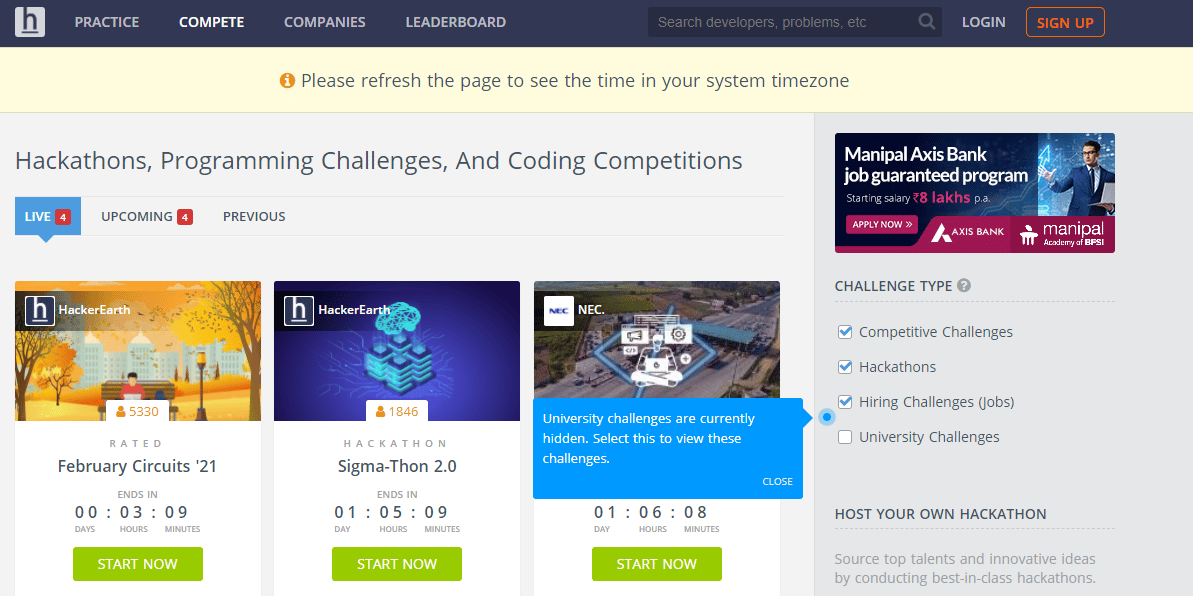 Hackerrank is #beginnerGreat place.Here, programmers from all over the world come together to solve problems in a wide range of computer science fields, such as algorithms, machine learning orartificial intelligence,And practice different programming paradigms such as functional programming.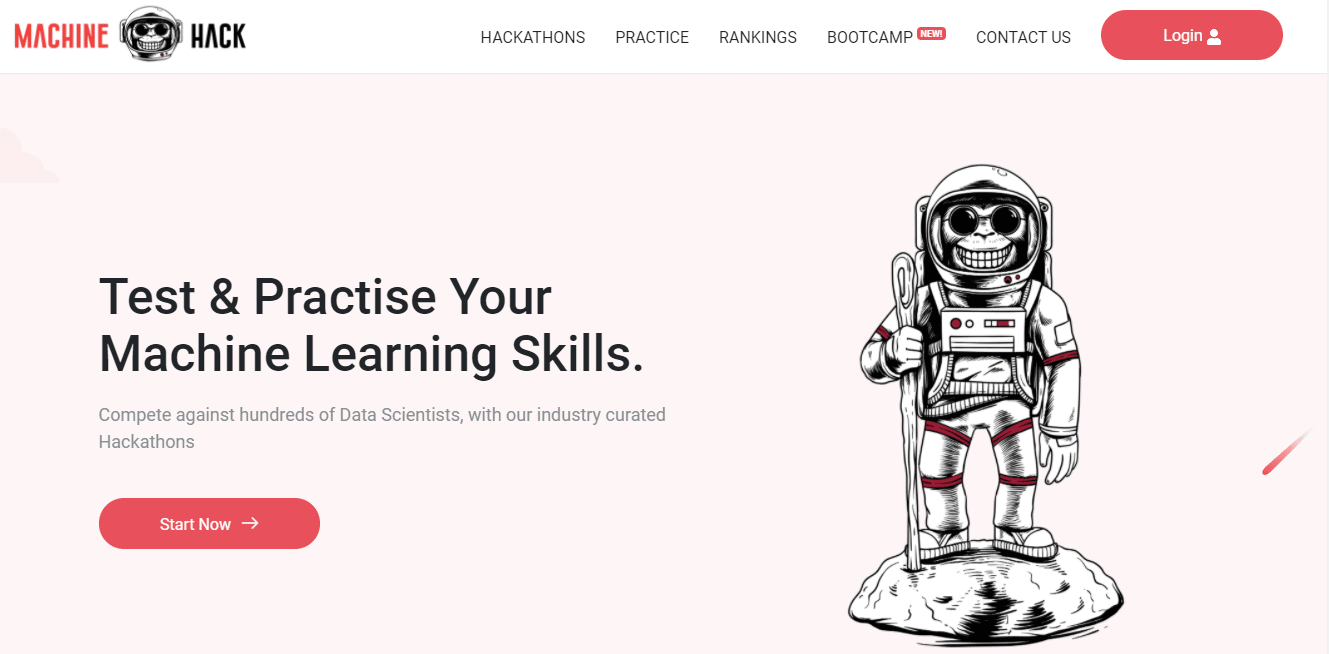 MachineHack is机器 学习Online platform for competitions.
It is an evolving platform whose mission is to support the growing data science community and help young aspiring people learn and improve their skills in the field of analysis.They are facing tough business problems and can now find solutions in machine learning and data science.
New resource
Free ML university courses offered by top universities (updated in 2021)
From Stanford University (Ande Wu and others) to summer school, all are available, updated or archived.
Massachusetts Institute of Technology
Stanford University (Andrew Ng, etc.)
University of Berkeley
Carnegie Mellon University
and many more.
it's hereFind all courses.